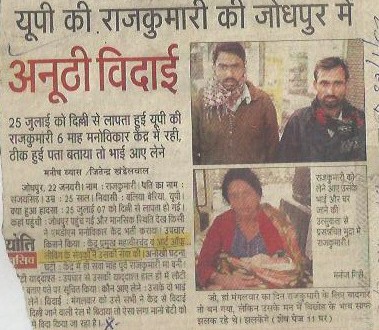 RAJKUMARI OF UP BACK TO FAMILY
Place: UP (Yalia Beria)
Lost Since: 25 July 2007
Age: 25yrs
Were Lost In Delhi And Reach Jodhpur. Here People Admit Her To Psychiatric Center At MDM Hospital, Jodhpur Seeing Her Mental Condition.
Here She Was Taken Care Very Well By Center Incharge Mr Mahaveer Chand And Member Of Art Of Living.
So After Six Months Of Care She Remembered Her Address, Husbands Name. Her Brothers Came To Take Her Back.