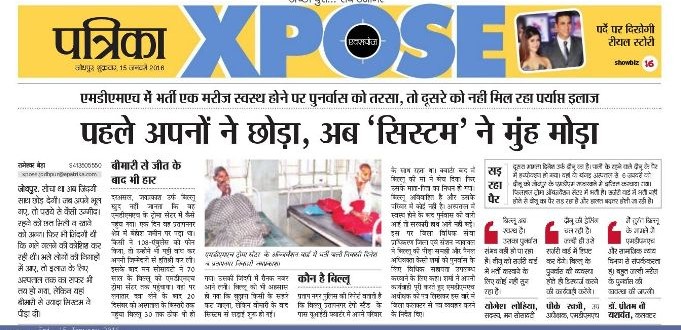 Helpless Billoo and Dinu…
At the age of 70 with no family no relatives and no any other support, Jayprakash (Billoo) seeking help desperatly. He is from very poor family, one day he was in pratapnagar (Jodhpur) area just lying un-conscious so somebody called 108 Ambulance, they came and went back after just dressing. Then MUN (Mental Upliftment Need) Society took him to trauma center of MDM Hospital on 20th Dec 2015. Within 10 days of treatment he got recovered but no support come infront to help him in rehabilitation.
Another case is of Dinu (from Pali) who is also admitted in MDMH trauma center with Billoo, his leg is gangrene but he is not shifted to surgical ward for more care and treatment.
Yogesh Ji (secretary of MUN Society) spoke to govt officials on regular basis for both of them, than they have taken this seriously and initiate by putting this matter forward to senior at MDMH and also to Dist collector.